Apple Allows Scam Apps from Rogue Developers, Despite MiniGames' Repeated Requests
Apple allow apps on their App Store that have been submitted by rogue developers—developers that are scamming Apple users. Dishonest developers are creating apps that don't work as described—and are linked to other innocent websites, such as MiniGames.com. The apps appear on the App Store, show fake screen shots of the app, and are not free apps. When customers purchase the apps, they're charged for purchasing the app, but the apps typically don't work or don't work as advertised. Customers then contact Apple, and are told to contact the developer. The developer has fraudulently represented themselves as being associated with MiniGames.com by linking the app's listing to MiniGames.com, so MiniGames.com receives the complaints. MiniGames.com does NOT develop any apps—all games are played directly on their website.
After repeated attempts by MiniGames.com to contact Apple, the company has continued to be unresponsive. MiniGames.com believes Apple has been overall negligent in regards to fraudulent products sold on the iTunes App Store. These products were falsely associated with the MiniGames.com brand.
Weeks of phone calls, emails, and posts on the issue made by MiniGames.com have yet to be properly addressed. Now since deleted, a developer called RiseUp Media was selling over a dozen of defective simulation-based games that directed users to MiniGames.com as their company website. MiniGames.com is in no way affiliated with RiseUp Media, nor does it develop any games.
Frustrated consumers have not only been misinformed by the developer's links to MiniGames.com, but also by Apple Support themselves who told customers in multiple instances to contact MiniGames.com about receiving compensation. These irresponsible actions have led to a number of angry users requesting refunds that are company is undoubtedly unaccountable for. Continued disregard for the situation may warrant punitive damages for the negative impact on the MiniGames' brand. At the very least, a public apology or clarification of the circumstances are clearly in order.
At the time of this writing all scam apps using MiniGames to our knowledge have been deleted. However, the problem continues to persist with new games popping up that are exposed as being fraudulent and again are removed. The most recent case was a game called "The Neighbor House of Mystery," also since deleted. Prior requests and messages have been archived that contain evidence of these games. In addition, these apps advertised fake screenshots, inaccurate descriptions and contained numerous issues such as bugs and crashes.
In the example below, Apple has fraudulently allowed a developer's game to be linked to the MiniGames.com website for support requests: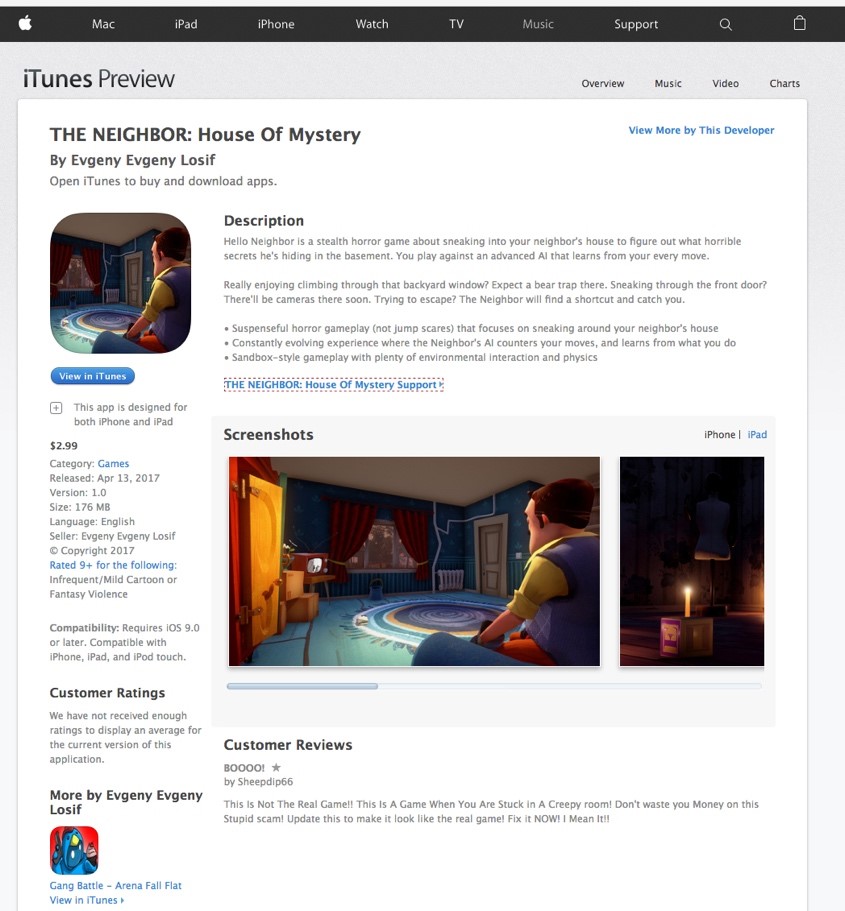 The "THE NEIGHBOR: House Of Mystery Support" link is linked to the MiniGames.com website.
To emphasize, Apple has continued to be incredibly unhelpful, which can no longer be tolerated by MiniGames. If the matter is not appropriately handled in a timely fashion soon, MiniGames.com may be required to take legal action. MiniGames believes our reputation has been tarnished. Those customers who purchased the scam products should be remedied in some sort of capacity.
Rather than create games, MiniGames.com is proud in the curation and hosting of titles made by talented developers. Our library includes over thousands of games that span across dozens of genres. Any specific game sold on the iTunes App Store that uses our website as their brand is doing so without consent. We hope that the players who frequently visit our website, MiniGames.com, understand and continue to support us.